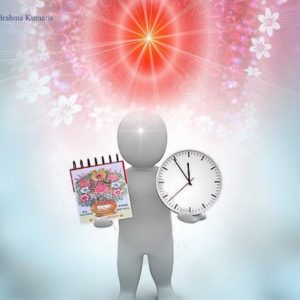 Finding Time for the Self | The Solution to 'I don't have Time'
There're many activities which don't require the mind at all (during which we can easily pop in our headphones & listen to a spiritual session!)… Like:
Travel Time

Eating food, cooking food

Getting ready in the morning

Walking from one place to another 
In addition, we have lots of time on weekends & holidays (like today!)
And compared to the time given, we save much much more time during the day (Like investing Rs. 100 & getting back Rs. 1,000!)… Because:
Our efficiency increases, due to the increased energy within!

Concentration improves (due to less waste thoughts), enabling us to do more in less time

Sleep quality improves, hence we require less hours of sleep
Thus it's all about priorities, rather than time. Hence, let's make the intelligent decision of giving priority to empowering our mind (even if for just 15-20 minutes daily), which makes all other aspects of our life very simple, easy & natural!
Best wishes!
Note: If you're free for yourself today, check out my specially created playlist of the latest sessions by Sister Shivani… You may listen to any topic you like!
Next Post: Concluding Thoughts | How to be Positive Always
Previous Post: How to overcome Jealousy – 5 Thoughts to deal with Jealousy