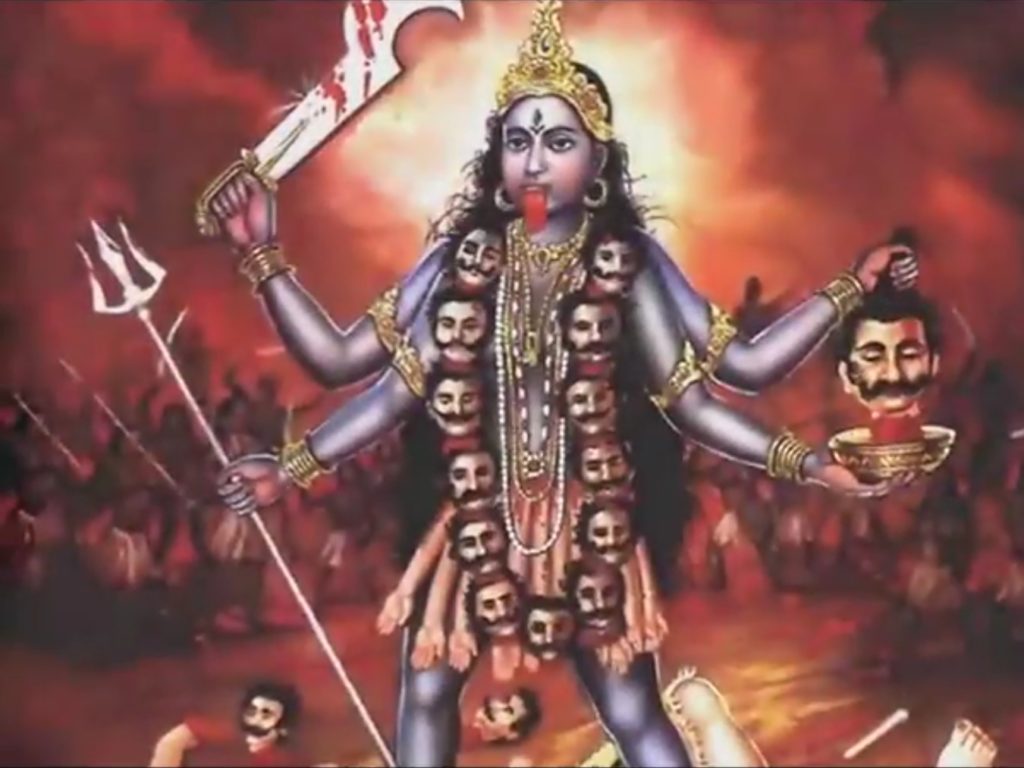 Spiritual Significance of Maa Kali | True Meaning of Maa Kali
Maa Kali is the destroyer of Kalank (i.e., the influence of vices & weaknesses) within every soul… And denotes the power to face & become victorious over our old sanskars… And is shown:
With a rosary of skulls around her neck… Denoting victory over even the fear of death

Eating up the demon to ensure it doesn't multiply… Denoting completely finishing all weaknesses and not leaving even a single trace of it… i.e., not leaving any chance for the weakness to grow again

In a ferocious form… Hence, we need to be strict with ourselves, to remain free from negativity!

Absolutely fearless… Hence rather than fearing our old sanskars, we just need to remain in the awareness of being the Master, to become victorious over them!
Similarly, Maa Vaishno Devi denotes a soul not only victorious over vices (vish ie poison) herself, but also becomes instrumental in finishing the vices in many!
Maa Brahmacharini denotes the virtue of brahmacharya (celibacy)… This is a basic foundation virtue, since physical purity is a must if we're to experience subtle purity, peace, love & joy!
Conclusion (Spiritual Significance of Maa Kali) 
Hence today, let's become strict with ourselves … i.e., let's not take any negative emotion lightly, and continue our practice of daily listening to spiritual knowledge & meditation with love … This keeps finishing the negativity within, & keeps filling us with lots of purity & divinity … Hence, gradually transforming us from humans to deities, and the world outside from Kaliyuga to the divine land Satyuga once again!
Om Shanti!
Thanks for reading this article on 'Spiritual Significance of Maa Kali | True Meaning of Maa Kali'
Previous post: Spiritual Significance of Santoshi Maa
As part of our series on 'Spiritual Significance of Navratri'