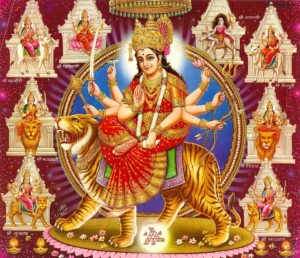 Celebrating Navratri Always | Happy Navratri Festival Special Wishes
This is the last post of our 'Spiritual Significance of Navratri' series
In this series, we've explored the spiritual significance of Navratri, Dussehra, Shiv Shaktis & then each specific Shiv Shakti… i.e., Maa Durga, Ambe Maa, Maa Saraswati, Santoshi Maa, Maa Kali, Maa Parvati, Gayatri Mata & Goddess Lakshmi!… And also Jwala Devi, Naina Devi, Khodiyar Maa, Sheetla Mata, Kuldevis, Chamunda Maa & Bahuchar Maa!
---
Every festival (utsav) brings a lot of enthusiasm (utsaah)… And God says every moment of your life is a festival i.e., a life full of joy & enthusiasm!
Hence, like we enjoyed the Raas Garba these 9 days… Similarly:
Let's keep dancing in supersensuous joy always… i.e., the dance of the mind!

Like we perform such harmonious group dances… Let's ensure the same

harmony in our relationships

, by adjusting with everyone's sanskars!
And to remain happy always, we just need to invoke our Shaktis within, by meditating for atleast few minutes daily!… (To make it easy, have specially created a playlist of some really wonderful & simple Rajyoga Meditation commentaries, for you!)
Indeed, this ensures we also inculcate the same qualities as our Maa (i.e., Mataji) in ourselves!
Further, like many perform a havan at end of Navratri… Similarly:
Like we sacrifice jowar, sesame & ghee in the fire… Let's create a thought to God that this body (which is tall like jowar), mind (subtle like sesame) & wealth (ie ghee) is yours… This makes us very light & free, hence automatically making us fulfill responsibilities better!

Like we sacrifice all remaining ingredients at end of Yagya… Let's sacrifice all our weaknesses together at end of this Navratri!

The physical fire actually represents the fire of meditation (

Yog Agni

), which burns all weaknesses within!
Conclusion (Happy Navratri Festival Special Wishes)
Hence, in this dark Kaliyuga night (ratri), let's emerge the new (nav) awareness of being a Shiv Shakti [i.e.,, a Shakti (soul) combined with Shiv (Supreme soul)] … To remain full of divine virtues & powers, hence gradually finishing all the weaknesses within… In other words, when we inculcate God's knowledge within us (like Maa Saraswati & Gayatri Mata), it automatically emerges the power to finish all weaknesses (like Maa Durga & Maa Kali), hence making us ever-content, ever-loving & ever-giving (like Ambe Maa & Santoshi Maa)… Indeed, we get transformed from humans to deities (like Goddess Lakshmi), and the world outside from Kaliyuga to the divine land Satyuga once again!
Om Shanti!
Thanks for reading this article on 'Celebrating Navratri Always | Happy Navratri Festival Special Wishes'
Previous Post: Spiritual Significance of Bahuchar Maa
As part of our series on 'Spiritual Significance of Navratri'