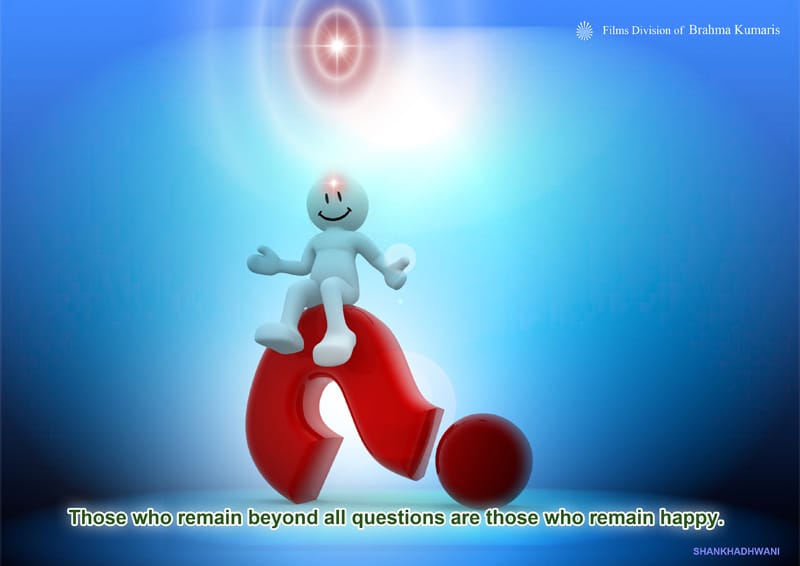 Going Beyond Questions | How to overcome Questions | All general knowledge questions and answers

Thinking of too many waste questions (what, why, where, when, how) drains a lot of our energy & happiness… Hence, let's overcome questions!
How?
Spiritual knowledge provides an answer (to all questions!):
We've seen numerous times how a seemingly adverse scene (e.x., getting fired from job) turns out to be a boon (the subsequently started business flourishing!)… Hence, the realization 'Every scene of this world drama is accurate & beneficial' is the single answer to all problems!
Why me? – It's an accurate return of past karma (& everyone is facing different such things!), glad it's over, now let me focus on creating a beautiful present!
The awareness 'I'm the Master of my thoughts & feelings' finishes dependencies (& hence also unnecessary questions!)
Why are they like this? – They're a soul on a long journey, hence have created many different sanskars (many of which they're themselves troubled with!)… Hence, let me share goodness with them!
Conclusion (Going Beyond Questions)
Hence, let's shift from the crooked question mark sign to the simple full stop… To remain at ease, happy & content always!

---
Let's also learn how to overcome Desires, Anger, Guilt, Hurry, Expectations, Hurt, Jealousy, Comparison & Competition
---
Thanks for reading this article on 'Going Beyond Questions | How to overcome Questions | All general knowledge questions and answers'

Previous Post: A cheerful personality! | How to be cheerful | Cheerful quotes
As part of our series on 'How to be happy always'